Display settings of LogView window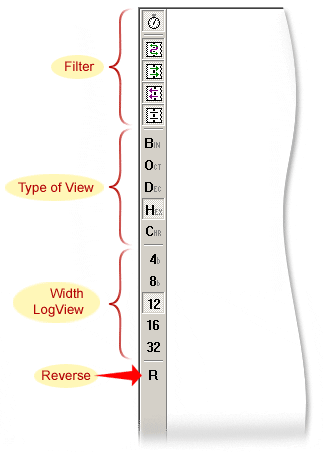 Display settings for LogView window are the ones of data filter, you can use menu command View→LogView or the toolbar at the left of LogView window.
In LogView window all information is arranged to several groups:
to display basic types of data use Filter bar:

- Common Messages;

- Status Events;

- Input Stream;

- Output Stream;

- Time Line.
When pressed, a button enables display of the data it refers to.
Note: you can hide Status Events messages only after you hided Common Messages group.
In their turn, input and output data stream may be displayed in the following formats by switching relevant buttons in Type of View bar:

- Binary;

- Octal;

- Decimal;

- Hexadecimal;

- Charset.
One or several formats can be used simultaneously. To enable a required format click relevant button in the list or select corresponding command in the menu.
The number of bytes in a line can be as well arranged using Width LogView field. This toolbar functions as a selection switcher to the required number of bytes in a line.
Reverse

button changes the direction of data display in LogView window, when disabled, messages are added to the bottom of all data text, if enabled, messages come to the top of it.